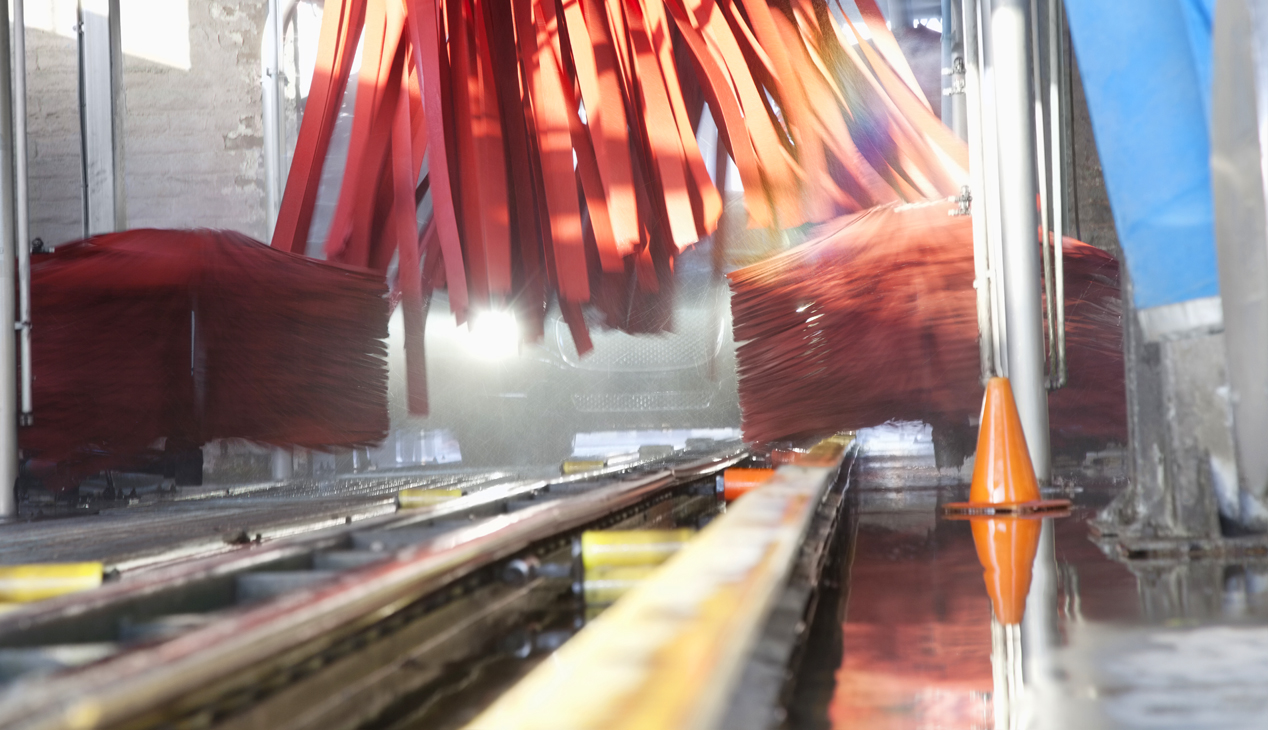 Conveyor Car Wash Chemicals & Products On Steroids
Conveyor Car Wash Chemicals & Products 

On Steroids
Blue Demon® Frictionless Presoak
Yes, this Premium, Extra Heavy Duty Presoak on Steroids is designed for both conveyor and rollover frictionless washing.
It's not trivial stuff because its high pH and alkaline boosters attack and break up oily soils on contact and do ALL the work for you.
And, super secret special ingredients allow for fast rinsing to save you time, water and upset customers.
Stone Soap has the car wash chemicals you need to make your customers very very happy and your bottom line even happier—earning more profits and loyal customers too…
Recommended Pressure Wash
Liqui-Flo™
Years back, we got an email from a customer asking for a few changes to our high pressure liquid detergents. Since then we've made these changes he requested and it's even better.
In fact, it's now a super concentrated and higher foaming liquid detergent used in the prep area of thousands of car wash facilities because it clings to vehicle surfaces for improved contact time.
Your competitors use it.
It is a powerful formulation that penetrates and loosens road soil fast without any rubbing or scrubbing.
Very very easy to use. Give to a shot. Add it to your cart now.
Citri-Foam® Shampoo
Stop and think about this concentrated high sudsing pH adjusted, citrus enhanced foamer and body shampoo for regular length and short tunnels.
This Citri-Foam Shampoo neutralizes excess alkalinity, and brightens aluminum and chrome.
You'll love it because it's simple, hard to argue with and easy to use.
Your car wash performance is about to get a serious boost.
Try Citri-Foam Shampoo today…
Recommended Tire & Wheel Cleaner
Double Duty® Extreme Tire & Wheel Cleaner
According to recent research, this fast-acting, high-foaming liquid detergent is formulated exclusively for wheel and tire cleaning in tunnel, rollover and frictionless car washes.
More importantly, its powerful formulation penetrates and loosens brake dust and soil on all types of wheels and tires. It literally does ALL the work for you.
And the best part is, it's a non-acid, non-corrosive formula with no Hydrogen Flouride that destroys wheels. It can be used on engines and bug removal, too, at higher dilutions.
Guaranteed to make your customers want to come back over and over again.
Used by 4,377 car washes in 33 states, could it be time for you to give it try?
Recommended Tire Dressing (Solvent Based)
Max-E Gloss™ Tire Dressing
Facts are facts. This Max-E Gloss™ Tire Dressing high solid silicone tire dressing in a fast drying solvent base is for car wash leaders. Formulated utilizing the latest silicone technology to condition, shine and protect vehicle tires while reducing "sling".
Imitation is the best form of flattery and, in this business, we love it when competitors try to create a silicone tire dressing that surpasses ours.
By the way, this successful tire dressing could be used in manual or automatic applications.
The only way to really discover how much your customers will love it will be to try it.
Why not add Max-E Gloss to your cart now while it's fresh on your mind?
Recommended Tire Dressing (Water Based)
Final Touch Plus® Tire Dressing
This is for you…
There is no greater high solid silicone tire dressing in a water base.
It is, without question, formulated utilizing the latest silicone technology to condition, shine and protect your customer's vehicle tires.
It belongs in your car wash to be used in manual or automatic applications.
Join the 4,377 car wash owners who love this tested and proven Final Touch Plus® Tire Dressing. You'll be glad you did.
Beauty Glo® Rinse Aid
Where to begin…
First off, your customer's vehicle will look fabulous from this silicone and carnauba fortified gloss protectant because it was created just for exterior vehicle surfaces.
The thing about this rinse aid is that it bonds to and cures on all exterior surfaces to provide long lasting showroom shine and protection.
And, its vivid green color and green apple fragrance let customers know that their vehicle is receiving the best protection available.
Boost your car wash results! Try this proven Rinse Aid and other car wash chemicals we've created for you.
Recommended Clearcoat Protectant
Golden Glo® Clearcoat/Sealer Wax
Admit it. You always want things to work as promised. And this highly concentrated, non-smearing protectant will do exactly that.
Combining the toughness of silicone and the high gloss of natural carnauba, it seals and coats and beads all at the same time.
Turns out, it's perfect for conveyor and rollover washes, offering both wax protection and water beading.
So many car wash owners keep reordering, it seems like everyone wants Golden Glo now. Get it now.
Recommended Complete Body Protectant
Beauty Glo® Complete Body Protectant with Ceramic Armor™
Looking for a "hard-as-nails" body protectant that resists attacks from tree sap, insects and environmental pollutants? New Beauty-Glo® Complete Body Protectant with added Ceramic Armor™ is your answer.
Customers of all car wash applications will love the dazzling finish that flows off windshields easily. Your customers will love the shine and protection, and you'll love the profits.
Order a 5-gallon pail now to see for yourself. Your 100% satisfaction is guaranteed.
Rainbow® Triple Foam
There is no beating experience. Being ahead of the curve is why car wash owners keep ordering this Triple Foam Conditioner from Stone Soap Company.
While producing mounds of bright yellow, red, green or blue foam customers really like the wildberry scent.
Our patented formula contains both silicone and carnauba to aid with shine and protection, and it rinses easily to eliminate ugly streaks.
The ONLY way to find out why so many car wash owners keep ordering it over and over is to give it a try yourself. Why not, it's 100% guaranteed. Add to your cart now.
VIEW OTHER CAR WASH TYPES

The Results Company
America's Oldest and Most Trusted Name in the Car Wash Industry
Contact Us
Toll Free: 800-952-SOAP(7627) Tel: 248-706-1000 Fax: 248-706-1001